Visions of the heart : Canadian Aboriginal issues (Third edition)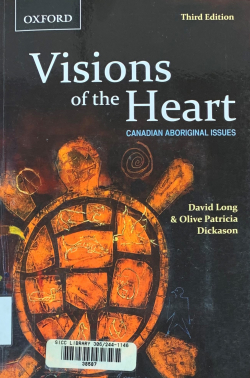 Subject
Indigenous peoples -- Canada -- Textbooks
Tags
Indigenous peoples -- Canada
,
Indigenous peoples -- Canada -- Textbooks
,
Residential Schools
,
Indigenous peoples -- Canada -- Urban residence
,
Indigenous peoples -- Canada -- Social conditions
,
Language revival
,
Traditional knowledge
,
Indigenous Peoples -- Education -- Canada
,
Indigenous women -- Canada
,
Indigenous peoples in motion pictures
,
Indigenous peoples in popular culture
,
Indigenous self-government -- Canada
,
Elders (Indigenous leaders)
Abstract
"In Visions of the Heart, Aboriginal and non-Aboriginal scholars from across the country reflect on the urgent issues facing First Nations, Métis, Inuit, and non-status Aboriginal people in Canada today. Their subjects range from the specific challenges confronting individual groups to broad questions of culture, nationhood, leadership, and, above all, identity, but a recurring theme is the need for transformational change."--Back cover.
Biblio Notes
Contents:
Preface, Acknowledgments ; Introduction ; 1. 'Toward a Larger View of Canada's History: The Native Factor' ; 2. 'The Role of Native Elders: Emergent Issues' ; 3. 'Elders' Teachings in the Twenty-First Century: A Personal Reflection' ; 4. 'Foundations: First Nation and Metis Families' ; 5. 'Learning from Indigenous Knowledge in Education' ; 6. 'Aboriginal Languages in Canada: Generational Perspectives on Language Maintenance, Loss, and Revitalization' ; 7. 'Aboriginal Demography' ; 8. 'Reclaiming Aboriginality: From Mainstream Media Representation to Aboriginal Self Representation' ; 9. 'First Nations Women in Canada' ; 10. 'The Need for Radical Change in the Canadian Criminal Justice System: Applying a Human Rights Framework' ; 11. 'From Paternalism to Partnership: The Challenges of Aboriginal Leadership' ; 12. 'Moving Beyond the Politics of Aboriginal Well-being, Health, and Healing' ; 13. 'Urban Aboriginal People in Canada: Community Trends and Issues of Governance' ; 14. 'The Canada Problem in Aboriginal Politics' ; 15. 'Rekindling the Fire: Indigenous Knowledge and New Technologies' ; Conclusion: 'Reconciliation and Moving Forward', A Dialogue between David Newhouse and David Long ; Glossary ; Index.