Indian education in Saskatchewan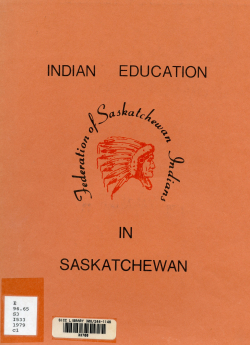 Subject
Indigenous peoples -- Education -- Saskatchewan
Abstract
"The purpose of this booklet is to give a basic understanding of the educational resources made available by the Federation of Saskatchewan Indians. The existence of three Colleges which concern themselves with the education of Indian people sometimes causes confusion, but can be quite simply explained by keeping in mind that, under the direction of the F.S.I., the Saskatchewan Indian Cultural College for the most part concerns itself with the Kindergarten to Grade XII phase of education for Indian people; the Saskatchewan Indian Federated College, University of Regina deals with University education; and the Saskatchewan Indian Community College operates to meet Adult Training needs on Reserves.

Most of our Indian culture was in danger of being lost. We must revive it, and more important, use it! We believe that Indian cultural skills are both meaningful and practical to both the Indian and non-Indian population. These skills are especially important to our children who have been born into this "technological society".

In order to retain these traditional and contemporary values, they must be integrated as part of an in-school program and adult education curriculum which recognizes that Indian values, languages, religion, history and philosophy are the core of contemporary Indian life.

This, then, is what the three Colleges, each at its own level, are working towards."--Introduction.