Crowfoot : Chief of the Blackfeet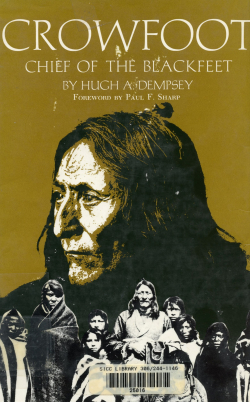 Subject
Crowfoot -- 1830?-1890
Abstract
"In one shattering decade, from 1875 to 1885, the great buffalo herds disappeared from western North America, and the Plains Indians, who had depended on them for food, shelter, and clothing, were forced to become wards of the government. This book tells the story of how one Canadian tribe was led through years of harassment, starvation, and subjugation by a wise and farsighted chief.

Crowfoot, a Blood Indian who became chief of the Blackfoot Nation, was considered by whites to be the greatest single influence in the maintenance of peace and the acceptance of a new mode of life.

In 1885 the Riel Rebellion erupted in the Canadian-American West, but Crowfoot refused to participate, feeling that it was a losing battle. Did he follow this course of action for personal aggrandizement and personal gain, as many of the tribesmen suspected? The author has searched widely in the source material for the answer.

This account reveals Crowfoot as a leader of rare foresight and perception, a man whose primary loyalty never wavered, a chieftain who always acted to the best of his ability and in the best interests of his people."--Book jacket.
Description
xix, 226 pages : illustrations, portraits ; 21 cm.
Biblio Notes
Notes:
Bibliography: p. 217-220.