Indian education in the American colonies, 1607-1783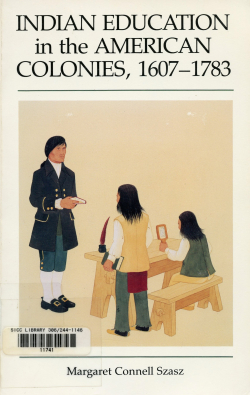 Subject
Indigenous peoples -- Missions -- North America -- History
Abstract
"Armed with primer and Bible, missionaries and teachers in seventeenth- and eighteenth century America sought — in their words — "to Christianize and civilize the native heathen." Both the attempts to transform Indians via schooling and the Indians' reactions to such efforts are closely studied for the first time in this book.

Professor Szaz's remarkable synthesis of original and published materials is a detailed and engaging story told from both the Indian and white points of view. Szaz argues that the most intriguing dimension of colonial Indian education came with the individuals who tried to work across cultures. Thus, we learn of the remarkable accomplishments of two Algonquian students at Harvard, of the Creek woman Mary Musgrove who enabled James Ogelthorpe and the Georgians to establish peaceful relations with the Creek nation, and of Eleazar Wheelock's attempts to provide schools for Indian males and females. The story of these individuals and their compatriots, plus the numerous experiments in Indian schooling, provide a new way of looking at Indian-white relations and colonial Indian education."--Back cover.
Description
xxiv, 333 pages : illustrations, maps ; 23 cm.
Biblio Notes
Contents:
Introduction --
Education for the colonists --
Virginia : Indian schooling in the seventeenth and eighteenth centuries --
Puritans and Indians : New England in the seventeenth century --
The southeast : Carolina traders versus SPG schooling --
The southeast : Methodists and Moravians meet the Yamacraw --
Schooling for the southern New England Algonquian, from the 1690s to the 1730s --
The great awakening and Indian schooling --
Indian women between two worlds : Moor's School and coeducation in the 1760s --
Indian schoolmasters among the Iroquois, from the 1760s to the 1770s --
Conclusion.

Includes index.