The rebirth of Canada's Indians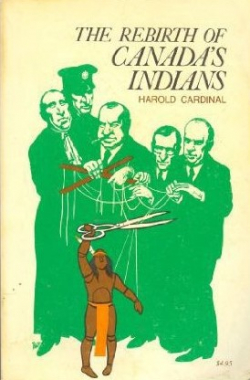 Subject
Indigenous peoples -- Canada -- Government relations
Abstract
"When he wrote The Unjust Society in 1969 Harold Cardinal was angry - very angry. That anger still shows in his latest book, but now a germ of hope pervades his writing. He sees the ultimate destiny of his people as no longer completely controlled by white missionaries, bureaucrats, and social workers. The growth of provincial and national Indian organizations means that now the Indian people have a stronger voice in Canada. True, it is a hard fight to get that voice heard, but recent events: such as Supreme Court judgements in cases involving Indians, and the public notice that the oil and gas pipeline deals in the North are bringing to treaty and aboriginal rights questions, are making the Indian voice an insistent and fast-growing one.

Told from the unique, personal viewpoint of Harold Cardinal, this is the story of the Indian peoples' fight for justice through the tunnels and mazes of bureaucracy. It is the story of the reawakening of the Indian consciousness, the rebirth of the Indian pride, and the rediscovery of a sense of importance in Indian culture and traditions.

The Rebirth of Canada's Indians calls for the creation of a "bridge of understanding" between Canada's Indian and non-Indian cultures. Above all, the book is an affirmation of the importance of the Indian way of life, of the Indian religion, and a demand for acceptance of the Alberta Proposal for a New Indian Act, which will build upon this way of life to create a position of dignity for Indians in Canada."--Back cover.