The lost children : a nation's shame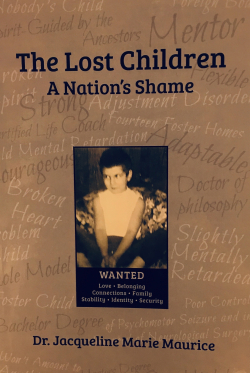 Tags
Sixties scoop Canada 1951-ca. 1980
,
Child welfare -- Saskatchewan
,
Child welfare
,
Foster home care
,
Interracial adoption -- Canada -- Case studies
,
Adoptive parents -- Canada -- Psychology
,
Indigenous children -- Canada
,
Indigenous children
,
Adoptive parents -- Psychology
,
Interracial adoption
,
Saskatchewan
Abstract
"This book is a story within a story. With one woman's journey, Dr. Maurice places a searchlight on a child welfare era where thousands of Aboriginal and Métis children were placed into foster care and/or adoption situations throughout Canada, North America and the world. This child welfare policy and practice era is known as the Sixties Scoop and specifically, the Adopt Indian Métis program in Saskatchewan, Canada.

This book highlights Dr. Maurice's riveting experiences of multiple traumas, foster homes, losses, oppressions and atrocities while in foster care. Yet this is no ordinary story as this book accounts Dr. Maurice's amazing process from being a nobody's child with no family, no connections and especially, no good byes or no "I love you", to resilience, strength and courage and being an educator, mentor and role model. This book has implications for and speaks to survivors, youth, parents and grandparents as well as community members, leaders, educators, professionals and decision makers.

This release of this book is timely for individuals who are beginning and/or continuing their search for a sense of place and healing journey and, for allies in healing. The importance of this book is a devastating and stark reminder that currently, thousands of children in North American and worldwide are directly and/or indirectly experiencing children aid societies and child welfare policies and practices which are tragically becoming known as a Millennium Scoop."--Back cover.