Saskatchewan and the Rocky Mountains : a diary and narrative of travel, sport, and adventure, during a journey through the Hudson's Bay Company's territories in 1859 and 1860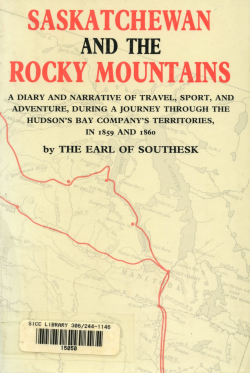 Subject
Canadian Northwest -- Description and travel -- 1822-1870
Abstract
"Unlike other explorer-adventurers who sought out the far reaches of the Canadian Northwest in the latter half of the 19th century, James Carnegie, sixth de facto and ninth commission as motive for his travels. His journal, which first appeared in 1875 some fifteen years after his trip, makes this apparent in its subtitle: A Diary and Narrative of Travel, Sport, and Adventure, During a Journey through the Hudson's Bay Company's Territories, in 1859 and 1860.

Spurred by ailing health to seek open-air living in a health climate, the young Scottish aristocrat set out in the spring of 1859 on the trip that would take him as far west as the Rocky Mountains. An avid sportsman, he engaged in hunting everything from buffalo to prairie fowl. His colorful descriptions of the progress of his expedition are illuminated with many small sketches by him.

Throughout the account it is evident that the author is a member of a class accustomed to Victorian amenities; in a sense he regards himself as a superior human being for whom such a journey is a personal outlet rather than a mission for society. Nevertheless, he tells his story with validity and enthusiasm."--Book jacket.
Description
xxx, 448 pages : illustrations, plates, folded maps, facsimile ; 22 cm.
Biblio Notes
Contents:
I. Niagara, Lachine, St. Paul, Crow-wing --
II. Crow-wing to Fort Garry --
III. Fort Garry --
IV. Fort Garry to Fort Ellice --
V. Fort Ellice to Qu'Appelle Fort --
VI. Qu'Appelle Fort to Indian Elbow --
VII. Indian Elbow to crossing the South Branch --
VIII. South Saskatchewan to Cherry Bush --
IX. Cherry Bush, the Bad Hill, Fort Carlton --
X. Fort Carlton to Fort Edmonton --
XI. Fort Edmonton --
XII. Fort Edmonton to the Rocky Mountains --
XIII. Medicine Tent River and North River Camps --
XIV. North River Camp to Kootanie Plain --
XV. Kootanie Plain to old Bow Fort --
XVI. Old Bow Fort to Fort Edmonton --
XVII. Fort Edmonton to Fort Pitt --
XVIII. Fort Pitt to Fort Carlton --
XIX. Fort Carlton to Touchwood Hills --
XX. Touchwood Hills to Fort Pelly --
XXI. Fort Pelly --
XXII. Fort Pelly to Fort Garry --
XXIII. Fort Garry --
XXIV. Fort Garry to England.

Includes index.