Towards a new beginning : a foundational report for a strategy to revitalize First Nation, Inuit and Metis languages and cultures : report to the Minister of Canadian Heritage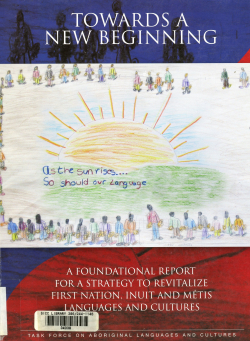 Subject
Language revitalization -- Canada
Abstract
"The Task Force's work was informed by values and principles taught by the Elders. It was inspired by a vision that sees First Nation, Inuit and Métis languages as gifts from the Creator carrying unique and irreplaceable values and spiritual beliefs that allow speakers to relate with their ancestors and to take part in sacred ceremonies. This vision sees the present generation recovering and strengthening the ability to speak these sacred, living languages and passing them on so that the seventh and future generations will be fluent in them. It sees these renewed languages as expressions of First Nation, Inuit and Métis nationhood in a country that has made itself whole by recognizing them in law as the original languages of Canada. This vision sees Canada providing enduring institutional support for First Nation, Inuit and Métis languages and Canadians of all origins, recognizing, sharing and supporting these principles and values"--Executive summary.
Description
xiv, 142, 155, xvi pages : illustrations, portraits ; 28 cm.
Biblio Notes
Language Note:
Text in English and French on inverted pages.