Tewaarathon (lacrosse) : Akwesasne's story of our national game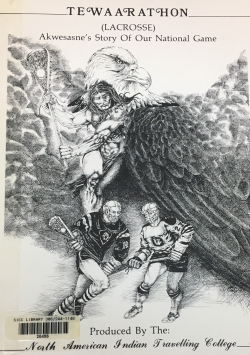 Abstract
"Lacrosse: the story of the sport known as "the fastest game on two feet". Told for the first time by the people from whom the game originated... the North American Indian people!" -- Book jacket.
Description
234 pages : illustrations ; 28 cm.
Biblio Notes
Contents:
History of lacrosse --
Origin of lacrosse --
History of lacrosse --
Akwesasne and the boundaries --
Lacrosse stick making in Akwesasne --
Art of making lacrosse sticks --
Conversion from field lacrosse to box lacrosse --
Comparison of contemporary box and field lacrosse --
Poem by Fred Jacobs --
Team pictures, 1880's to 1977 --
Minor lacrosse --
Contemporary lacrosse.