Tracing your Aboriginal ancestors in the Prairie Provinces : a guide to the records and how to use them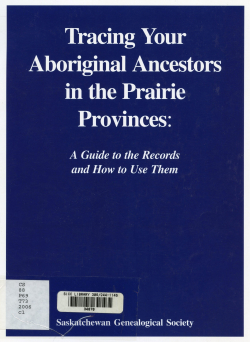 Subject
Indigenous peoples -- Prairie Provinces -- Genealogy -- Handbooks manuals etc.
Abstract
"This book contains detailed explanations about each record group showing when and why it was created, where you will find the records today and how and why you would want to access them. In addition to the records found in centres throughout Alberta, Manitoba and Saskatchewan there are chapters or sections devoted to federal records such as census, military, and immigration, as well as the historic records created by the Department of the Interior and the Department of Indian Affairs."--WorldCat.
Description
iv, 157 pages : illustrations, map ; 28 cm.