Mission among the buffalo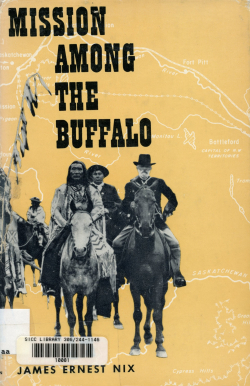 Subject
Protestants -- Missions -- Alberta
Abstract
"In 1860 the Wesleyan Methodist Church of Canada appointed Rev. George McDougall superintendent of its missionary work in what is now western Canada. He and his son John - a mighty buffalo hunter but, above all, an intrepid missionary - practically formed the Protestant church history of Alberta in their time.

The era of the McDougalls spans the period of the opening of the Canadian West, from fur trading days, through two rebellions and the extermination of the buffalo, to the coming of the first wave of settlers. Full of colour, their story contains such episodes as the conflict with the law of Yankee "whiskey traders," the ravages of a smallpox epidemic, and the mysterious death of George McDougall on the snow-covered prairie.

In telling the story of the McDougalls and, with it, describing the religious zeal, the pioneering fortitude and the heroic confrontation of a lawless and pagan land by early Canadian missionaries, Mission Among the Buffalo sheds new light on the history of our country and its developing heritage."--Back cover.