The Riel Rebellions : a cartographic history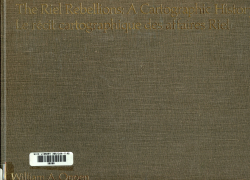 Subject
Riel Rebellion 1885
Abstract
"The cartographic record of the Riel Rebellions has rarely been examined in detail. This is primarily because the variety, scope, and location of relevant cartographic material have never been actively publicized. The reproduction and description of various maps in the following pages represent an attempt to rectify the situation. The maps were gathered from a wide variety of locations, but the majority of items were found within the National Map Collection."--Preface.
Description
x, 109 pages : illustrations ; 24 x 31 cm.
Biblio Notes
Language Note:
Text in English and French in parallel rows.

Includes bibliography.