Literature

Grassroots Anthology Vol. 3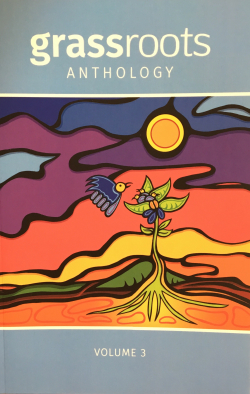 Abstract
First Nations people have long cherished the gifts of storytelling and visual arts. And, as the world evolves, First Nation artists are choose to capture modern day perspectives in forms that echo traditional methods of expression.

MFNERC's Grassroots Anthology is a celebration of these perspectives told in stories, poems, paintings and photographs. Each of the contributors is budding talent in Manitoba, and MFNERC is honoured to present their work as a source of inspiration for younger generations.

It is the act of sharing between generations that is key to encouraging learning and helping it flourish. So, MFNERC offers you this gift as a tool for you own learning, whether that's in the classroom, boardroom or living room.
Description
Introduction
Geraldine Shingoose
Kevin Settee
Sadie-Phoenix Lavoie
Jacob Daniels
Elder William Lathlin

Student Essays
John Lundie Jr
Noah Woodford
Aliyah McDougall
Amy Blacksmith
Athena Eastman
Chlista Sumner-Travers
Chloe Wesley
Ciara McLeod
Erica Straight-Bear
Isabelle Young
Jaime Apetagon
Jaya Bighetty
Lindsay Wood
Marissa Carver
Marsh Berens
Patty Castel
Rochelle Spence
Ryan Spence
Serenity Caribou
Zakk Gott
Joseph Ouskan-Saunders

Portraits of the North
Betsy Anderson
Ester Linklater
Lottie Moore
Robert Baker
Wellington Spence