Gatherings : the En'owkin Journal of First North American peoples, volume 14 : En'owkin reunion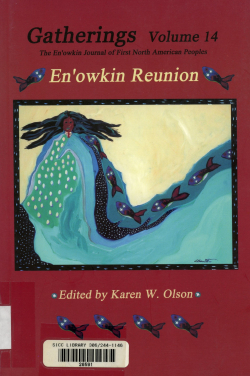 Subject
Indigenous peoples -- North America -- Literary collections
Abstract
"Gatherings — The En'owkin Journal of First North American Peoples: En'owkin Reunion issue is an anthology compiled of writers and artists who are past and present En'owkin Centre alumni, teachers and mentors.

The En'owkin Centre is a post-secondary institution that practices and implements Indigenous knowledge and systems. The Foundations in Indigenous Fine Arts Program is designed to develop writers and artists. Former instructors include Eric Robertson, Dr. Donna Goodleaf, Armand Garnet Ruffo, Kateri Akiwenzie-Damn, among others. Several En'owkin writing program graduates have become published authors including Lorne Simon (1964-1994), Barbara Helen Hill, Connie Fife, and Richard Van Camp. En'owkin guests and mentors have included David Suzuki, Joy Harjo, Margo Kane, Eddie Poitras, Margaret Atwood, Leslie Marmon Silko and Lee Maracle.

The Gatherings Journal is the creative result of a wealth of talent brought together at the En'owkin Centre.

Contributors to this issue include: Jeanette C. Armstrong, Joy Kogawa, Armand Garnet Ruffo, Drew Hayden Taylor, Richard Van Camp, William George, Maurice Kenny and many others." -- Back cover.
Description
199 pages : illustrations, portraits, photographs ; 22 cm.