Riel and the rebellion : 1885 reconsidered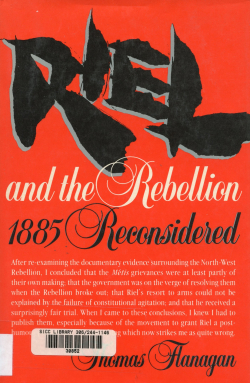 Subject
Riel Rebellion 1885
Abstract
"In this controversial examination of the evidence surrounding the North-West Rebellion, Thomas Flanagan challenges those who would mythologize Riel as hero and victim and depict the Rebellion as a popular uprising crushed by oppressive authority. His case is built on a detailed study of the issues that were at stake, based on important new sources of information and previously neglected documents.

In Flanagan's view, the Rebellion can scarcely be explained as the last resort of desperate men after the failure of legal means of action. If meaningful comment is to be made, he argues, it must be based on an understanding not only of the historical events but also of their context. The research in this book is meant to encourage informed answers to such questions as: Was Riel, were the Metis, justified in resorting to arms? Was the government justified in subjecting Rile to the highest punishment of the law? Should he be pardoned one hundred years later?

On the eve of the centenary of the North-West Rebellion, Thomas Flanagan offers this critically important book which yields a picture of missed opportunities for reconciliation rather than unrelenting oppression, of mistakes, misjudgments, and misperceptions, of a crucial collision of perspectives, and of the key role of Louis Riel."--Book jacket.