Cry of the Thunderbird : the American Indian's own story (Civilization of the American Indian Series)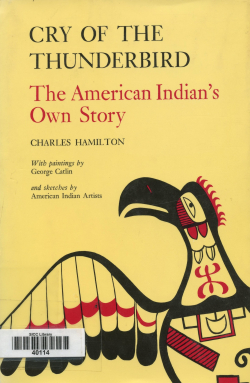 Subject
Indigenous peoples -- North America
Abstract
"Who better than the Indian himself can tell us what it was like in the days when he roamed unchallenged the wilderness plains and forests? Black Elk describes a Sioux courtship of the maiden whose father set too high a price; Chief Plenty Coups reports on the medicine man whose witch-craft cured the dying Crow warrior; Long Lance recalls the rites of the Sun Dance; later there is Ohiyesa telling us what Dartmouth looked like to an Indian freshman, and Geronimo selling his autograph at the World's Fair.

And the battles: King Philip's War, the American Revolution, the War of 1812, the Wagon Box Fight, the Custer Fight, the Last Stand of the Nex Perces—the Indians' warpath was long and bloody and their heroes, many. Chief Joseph, Pontiac, Black Hawk, Sitting Bull—here they all are, as eloquent as they were intrepid.

More than fifty authors and half as many tribes are represented in this collection, and the one hundred tales they spin of buffalo hunts, horse-stealing raids, and massacres are told in their own words but integrated by the editor's comments. Whoever reads these stories will find in them an authentic, intimate portrait of the Indian and a fascinating introduction to a vanished way of life. He will also gain something of a new slant on history, for the Indian was a keen critic of his white conqueror. Cry of the Thunderbird is a useful book of information and a first-rate reading adventure."--Book jacket.
Description
xviii, 283 pages : illustrations, maps ; 21 cm.