The Buffalo War : the history of the Red River Indian uprising of 1874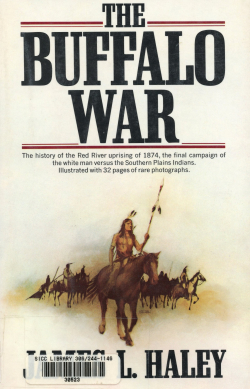 Subject
Red River War 1874-1875
Abstract
"Here is the first complete history of the long forgotten Buffalo War of 1874 — fought between the United States Government and warriors of the Cheyenne, Comanche, and Kiowa Indian tribes of the South Plains.

At the time of its completion, General Phil Sheridan called it the most successful Indian campaign ever waged — and many of its incidents have become frontier legends. But until now, the whole extraordinary episode has never been chronicled in full, in all its intricate and amazing detail.

James Haley has carefully analyzed the causes of Indian unrest centering around the great buffalo slaughter by white hunters from the north that threatened to destroy forever the whole foundation of Indian life. He describes the competing factions — within the Indian tribes, within the U.S. Army, and within the government bureaucracy — which shaped the course of events. And he outlines the battle strategies and engagements that made the Buffalo War such a curious blend of savagery, heroics, accidents, and confusion — on both sides of the fight.

Mr. Haley's extensive research draws heavily on contemporary letters and reports, and his many new findings overturn a number of myths and prejudices which have grown up around the Red River uprising over the past one hundred years. The result is an exciting, authentic narrative filled with the colorful events and personalities of a crucial time in the history of the American frontier. Included are fifty eight rare photographs of the Indian leaders, buffalo hunters, Army officers, and Indian agents who each played a part in the story of the Buffalo War."--Book jacket.
Description
xvi, 290 pages : illustrations ; 23 cm.
Biblio Notes
Contents:
The buffalo Indians --
The Indians' commissary --
The gathering storm --
The buffalo war --
The battle of Adobe Walls --
Lone Wolf's revenge: the Lost Valley fight --
The United States goes to war --
Internment: the Anadarko fight --
The great dry time: the Miles expedition and the battle of Red River --
Medicine Water: the Lone Tree massacre and the German kidnapings [sic] --
The Anadarko renegades: the battle for Lyman's wagon train and the battle of Buffalo Wallow --
The Mackenzie column: the battle of Palo Duro canyon --
The wrinkled-hand chase --
The collapse of Indian resistance.

Includes index.