Forty years in Canada : reminiscences of the great North-West with some account of his service in South Africa (The Ryerson archive series)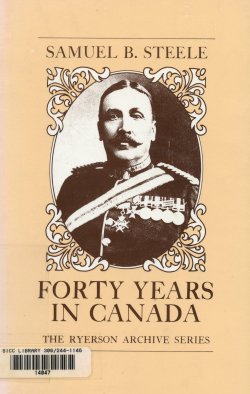 Subject
Samuel B. Steele -- (Samuel Benfield) -- 1848-1919
Abstract
"Samuel Benfield Steele was born near Orillia, Ontario, in 1851. Orphaned in his early teens, he joined the Canadian Militia, fought against the Fenians, and was on the Red River Expedition against Louis Riel's Metis.

He joined the new North-West Mounted Police and took part in the epic march west to Fort Edmonton. In his career with the NWMP he was involved in many of the historic episodes of the Canadian West."--Book jacket.
Description
xvii, 428 pages, [17] leaves of plates : illustrations, portraits ; 23 cm.