Groundswell : Indigenous knowledge and a call to action for climate change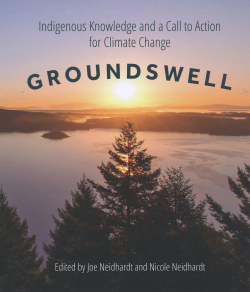 Subject
Traditional ecological knowledge
Abstract
"Groundswell is a collection of stirring and passionate essays from both Indigenous and non-indigenous writers that, together, present a compelling message about how traditional Indigenous knowledge and practices can -- and must be -- used to address climate change. The chapters eloquently interconnect, taking us from radical thinking to the gentleness of breath, demonstrating that we are all in this together, that we must understand what needs to be accomplished and participate in the care of Mother Earth.

Beautifully illustrated with photographs, Groundswell is augmented with video recordings from the authors and a short documentary film, available on the project's website. Profits from the book will help support the videos, documentary, and future projects of The Call to Action for Climate Change.

Visit www.envisionthebigpicture.com."--Back cover.
Description
208 pages : illustrations ; 24 cm