Little Pine and Lucky Man : a history 1866-1885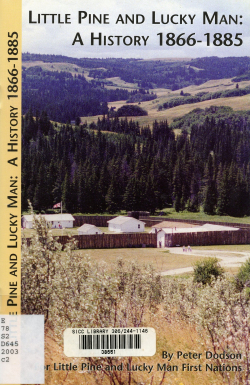 Subject
Indigenous peoples -- Canada -- Government relations
Tags
Indigenous peoples -- Canada -- Government relations
,
Little Pine Cree Nation
,
Lucky Man Cree Nation
,
Saskatchewan
,
Treaties
,
Indigenous peoples -- Saskatchewan -- History
,
Indigenous peoples -- Saskatchewan
,
Indigenous peoples -- Land tenure -- Saskatchewan
,
Cypress Hills (Alta. and Sask.)
,
Cree
,
Plains Cree
,
Siksika
,
Riel Resistance 1885
Abstract
"The Cypress Hills, located in Southwest Saskatchewan, are the highest point of land east of the Rocky Mountains and west of the Atlantic Coast. The Cypress Hills have been home to many different First Nations throughout history including the Assiniboine, the Blackfoot and the Plains Cree. In the 1860s, with the decline of the buffalo, the Cypress Hills, which still contained buffalo herds, became more important than ever to the Plains First Nations, especially the Plains Cree.

When the negotiations for Treaty 6 began at Fort Carlton in August 1876, several Cree chiefs were worried about finding a way to maintain the buffalo herds and in the process, maintain the Plains Cree way of life and provide them with enough security for the future. After Treaty 6 was negotiated, Little Pine, Big Bear and Lucky Man moved south to the Cypress Hills to try and continue hunting buffalo, but by 1879 almost no buffalo were making their way into Canada.

With their people starving, there was much pressure on Little Pine and Lucky Man to take Treaty and as a result, get some much needed rations for their people. Facing starvation and an uncertain future, both Little Pine and Lucky Man did not take Treaty because they agreed with it whole-heartedly — their people were starving and at this point in time it was the best solution to their problems. Little Pine and Lucky Man spent their lives trying to protect their people and their way of life. This is their story."--Back cover.
Biblio Notes
Notes:
Includes bibliographical references.