Pimatisiwin : the good life, global indigenous knowledge systems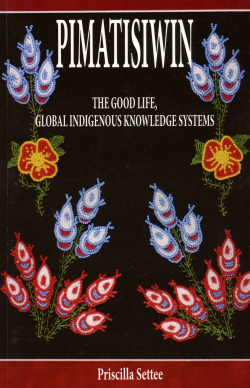 Abstract
"Pimatisiwin is a fascinating and unique offering to educators inside and outside of the academy and to activists globally. Priscilla Settee is a Warrior Woman with a pen who has skillfully woven together her own personal story as a Cree scholar-activist with current research by First Nations and indigenous peoples from around the world. The book outlines common struggles and provides practical solutions to indigenize the academy. Pimatisiwin skillfully interrogates the hegemony of power and politics in higher education and offers clear case studies and tools to speak truth to power, build learning alliances, and protect indigenous knowledge for the well-being of all humanity and the Earth. Settee's "pedagogy of hope and pimatisiwin" will guide the way to indigenous liberation and help create "the good life" once again."--Back cover.
Description
viii, 193 pages : color maps, color portrait ; 27 cm.
Biblio Notes
Contents:
Indigenous knowledge: Multiple approaches ; Critical theory ; Traditional values ; Wakohtowin ; Other interpretations of Indigenous knowledge ; Scholarship, Indigenous knowledge and activism
Review of the literature ; Indigenous knowledge ; New scholarship ; Voices from the margins ; Feminist thought ; Critical scholarship ; Community development ; Indigenizing the academy ; Academic Indigenism ; Whose knowledge? ; Incorporating Indigenous knowledge systems in policy and practice ; Cultural literature ; Teaching through story ; The culture conservancy ; Expressions of Indigenous knowledge through the arts ; Art and visual representation ; Cradleboard teaching project ; Native language supporting Indigenous knowledge ; Canadian Indigenous language and literacy development institute ; Terralingua
Critical methodology ; Storytelling as a research framework ; What counts as knowledge ; Conversational interviews ; Field texts ; Analysis ; Interpretation ; Collaborative learning
Research ; Indigenous research and practice versus status quo ; Indigenous knowledge: A pedagogy of healing ; Oskayak high school: A model for community healing ; Learning from the global South ; Hawaii ; Halau ku mana ; South Africa ; North-West University, North West province ; Centre for Indigenous knowledge (Cindek) University of Pretoria ; Vanuatu ; Land ; The situation for women ; Non-governmental organizations ; Vanuatu cultural center (VCC) ; Vanuatu cultural research policy ; Vanuat young peoples project (VYPP) ; Wan Smolbag theatre group ; Tanna ; Lessons learned ; Summary and analysis
Conclusion: Seven generations and beyond ; Storytelling, narrative, and dialogue ; International perspectives ; Cultural hegemony ; Pedagogy of hope, and pimatisiwin ; Limitations ; Research that counts ; Implications of findings ; Implications for future research ; Future research
Conclusions but not concluded.

Notes:
Includes bibliographical references (pages 174-185).