Finishing the sweetgrass braid : Indigenous knowledge transfer in urban Indigenous communities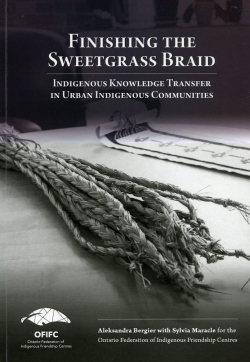 Subject
Indigenous peoples -- Canada -- Ethnic identity
Abstract
"Finishing the Sweetgrass Braid : Indigenous Knowledge Transfer in Urban Indigenous Communities" examines how a large urban Indigenous institution, the Ontario Federation of Indigenous Friendship Centres (OFIFC), takes up roles and responsibilities as a knowledge mover, perpetuating socio-cultural memory and rejuvenating Indigenous identity. This book is a legacy collection of essential knowledge and teachings from the Friendship Centre Movement, exploring what Indigenous knowledge is passed down, how it is shared through urban Indigenous communities and its fundamental importance for future generations."--Provided by publisher.
Description
xxvii, 151 pages : illustrations ; 26 cm.
Biblio Notes
Notes:
Includes bibliographical references.