Commissioner on Indian claims : a report : statements and submissions = Commissaire aux revendications des Indiens : un rapport : déclarations et mémoires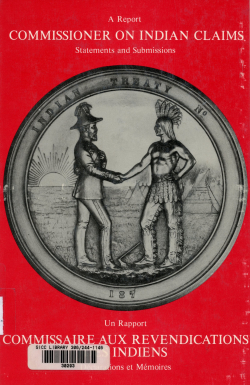 Subject
Indigenous peoples -- Canada -- Claims
Abstract
"Report of the commissioner, Lloyd Barber, to the Governor General in Council of the work of the Commission."--WorldCat.org.
Biblio Notes
Language Note: Text in English and French.

Contents:
Native aspirations and Canadian society --
The recognition of Aboriginal rights --
Treaty claims --
The Mackenzie Valley treaties --
Metis and Non-status Indian claims --
Band claims --
Approaches to settlements --
The structures of comprehensive settlements --
A framework for resolution.