Woodland Cree language kīkwāy ī-tasihkaman? = What are you doing? (Woodland Cree/English)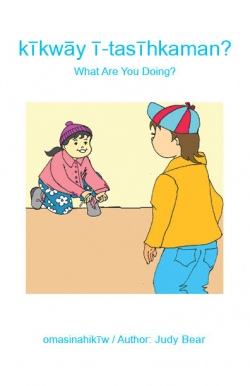 Subject
Woodland Cree dialect -- Readers
Abstract
A child asks his family, "what are you doing?". This book can be sung to the tune "Are You Sleeping Brother John"?
Description
16 pages : color illustrations ; 22 cm.
Biblio Notes
Language Note:
Text in Woodland Cree (TH dialect) and English.

Responsibility:
omasinahikīw [author] Judy Bear ; otāpasinahikīw [illustrator], Elaine Hay ; onīhithowasinahikīw [translator], okwīskasinahikīw [editor], Leona Ahenakew.