Woodland Cree language maskihkīwiskwīw takohtīw = The nurse arrives (Okinīs series, Woodland Cree)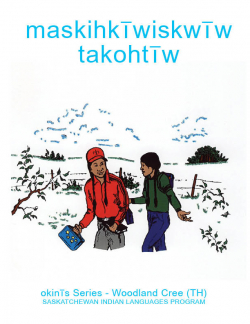 Subject
Woodland Cree dialect -- Readers
Description
11 pages : illustrations ; 28 cm.
Biblio Notes
Language Note:
Text in Woodland Cree (TH dialect).

Responsibility:
omasinahikīw [author], Helen Tootoosis ; otāpasinahikīw [illustrators], Ray Keighley, Ray McCallum ; okwīskasinahikīsīs [editors], Judy Bear, Shirley Van Vliet, Edie Hyggen ; onīhithīwasinahikīw [translator], Edie Hyggen.

Note:
Originally published as: The nurse drives to school.