Native spirit and the Sun Dance way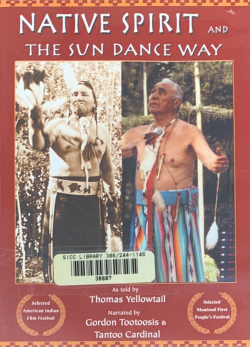 Abstract
"In Native Spirit, Cree Indian actress Tantoo Cardinal (Dances with Wolves), transports the viewer to the days of Red Cloud when, "Our old men talked with spirits and made good medicine. Our young men herded the horses and made love to the girls. In this way we lived and were happy". The voices of Plenty Coup, Fools Crow, Black Elk and other great leaders of their day, convey the heartbreaking story of their people's oppression and their ultimate triumph of the spirit. In Sun Dance Way, the words of Thomas Yellowtail, a revered Sun Dance chief of the Crow Indian tribe, are brought to life by the internationally known Cree Indian actor, Gordon Tootoosis (Legends of the Fall). Unique photographs and video footage of Sun Dances, from as far back as 1903, reveal the symbolism and mystical beauty of the ancient ceremony which remains at the center of the Plains Indians' lives today."--WorldCat.org.
Description
2 videodiscs (195 min.) : sound, color ; 4 3/4 in.
Biblio Notes
Contents:
Disc 1. Native Spirit ; special features: Elders speak ; So my people may live --
Disc 2. The Sun Dance way ; special features: Sweat lodge ; Vision quest --
Prayer with the pipe ; Yellowtail biography.