Cree language Wanisinwak iskwesisak : awasisasinahikanis = Two little girls lost in the bush : a Cree story for children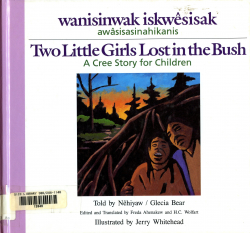 Subject
Cree language -- Juvenile literature
Abstract
"Two Little Girls Lost in the Bush is a true story told by a Cree grandmother about the time when she and her little sister became lost for two days in the densely forested wilderness of northern Saskatchewan. Many years ago, when Nêhiyaw was eleven and her sister was eight, she was given the important task of watching over a cow that was about to have a calf. When the cow wandered away, young Nêhiyaw and her sister followed it into the bush but became lost themselves. Alone, and without food or warm clothing, they tried to find their way back home. The story shows the self-reliance, strength and wisdom of a little girl who comforts her younger sister and follows the owl who eventually leads them back to safety.

The book contains Nêhiyaw's tale in her own language, Cree, and in an English translation. It is a very special story to be shared between children and their parents, grandparents and teachers."--Back cover.
Description
35 pages : color illustrations ; 22 cm
Biblio Notes
Language Note:
Text in Cree and English.