Reconciliation : Elders as knowledge keepers (Gatherings : the En'owkin journal of First North American peoples)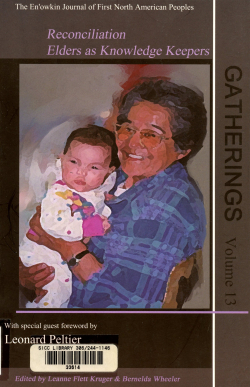 Subject
Indigenous peoples -- North America -- Literary collections
Abstract
"Gatherings is the only annual journal of Indigenous People's literary writings in North America, and is compiled and published annually by the En'owkin Centre and Theytus Books Ltd., on behalf of the En'owkin International School of Writing.

Contributing authors include, Drew Hayden Taylor, Barbara-Helen Hill, Janet Marie Rogers, Vera Manuel, Richard G. Green, Steve Russel and others, with a foreword written by Leonard Peltier.

This year's theme of Reconciliation: Elders as Knowledge Keepers, has brought together a unique blend of stories and poems from Aboriginal authors, reflecting on their experiences of learning from Elders, reconciling with the past, honouring Elders, being Elders and more."--Back cover.
Description
167 pages : illustrations ; 23 cm.
Biblio Notes
Contents:
Section 1. Lessons --
Section 2. Gifts --
Section 3. Knowledge --
Section 4. Honouring --
Section 5. International and words from our youth.