To Louis from your sister who loves you, Sara Riel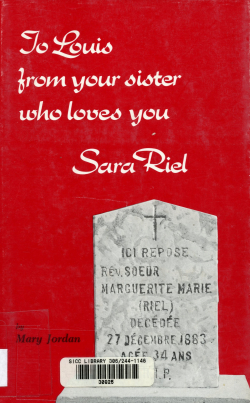 Subject
Louis Riel -- 1844-1885 -- Correspondence
Abstract
"Louis Riel was a very unusual man — part dreamer, part prophet, part man of action. Twice and but briefly he moved across the stage of the infant Dominion of Canada to the dramatic climax of his execution for treason.

Dead but never forgotten for Riel's memory survives with the Métis people of the great plains and in the hearts of the Québecois from whom he sprang.

Louis Riel and his sister Sara, a professed nun, had a strange, perhaps mystical, relationship which Mary Jordan explores in this book. The author has worked from Sara's own letters to Louis written in the elaborate, baroque style of the last century. Previously unknown facets of Riel's character and thought are revealed in this unusual study."--Book jacket.
Description
xvi, 172 pages : illustrations, facsimile, map, portrait ; 23 cm.
Biblio Notes
Notes:
Text of letters from Sara Riel to Louis Riel, in French: p. 106-172.

Includes index.