Dene language Hutok'etl'ah hots'en neghanita = Love you forever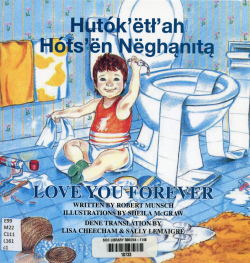 Subject
Dene language -- Texts
Abstract
"A young woman holds her newborn son and looks at him lovingly. Softly she sings to him: I'll love you forever, I'll like you for always, as long as I'm living, my baby you'll be. This is the story of how that little boy goes through the stages of childhood and becomes a man. It is also about the enduring nature of parents' love and how it crosses generations. Love You Forever is a book that both children and adults will enjoy - over and over again."--WorldCat.org.
Description
28 unnumbered pages : color illustrations ; 21 cm.
Biblio Notes
Language Note:
Text in Dene and English.