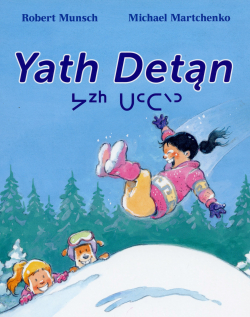 Subject
Dene language -- Texts
Abstract
"Out snowmobiling with their dad, Ali decides she wants to jump in the deep snow. Her sister Kate says she is crazy, and she is right: both girls get stuck way down in the snow and their dad has to yank them out by their ponytails. Then dad goes down the hole to get their lost boots, and the girls drag him back out with the snowmobile. But he forgets the boots -- so dad ties a rope to Ali and Kate, they jump down the hole again and their dad hooks them out with his airplane!"--Provided by publisher.
Description
24 unnumbered pages : colour illustrations ; 26 cm.
Biblio Notes
Language Note:
Text in Dene and syllabics.