Currents of change : Metis economic development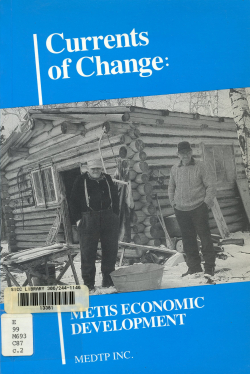 Subject
Métis -- Manitoba -- Economic conditions
Abstract
"The Metis Economic Development Training Program, Inc. completed a major training effort in December 1985, intended to promote economic development in Metis communities. The program provided a unique combination of training and community work for two groups of Economic Development Officers. It was the first professional training program in Manitoba established exclusively by a Native organization, the Manitoba Metis Federation, without joint sponsorship by a university or government agency.

This work serves as a form of recognition of the trainees and of the people who supported and worked with them in their home communities and it also serves as a permanent record of some of the main challenges and accomplishments of the program and explains how the program operated.

Hopefully, the experiences of the Metis Economic Development Training Program will be useful in the development of further initiatives involving training or economic development work."--Back cover.
Description
63 pages : illustrations ; 23 cm.
Biblio Notes
Contents:
1. Program stages --
2. Program structure --
3. Classroom and community work --
4. Courses --
5. Community participation --
A. Community selection --
B. Program committees --
C. Project working groups --
D. Community participation survey --
E. Summary --
6. Economic development officers --
7. Staff --
8. Board of directors --
9. Manitoba Metis Federation, Inc. --
10. Finances.