Woodland Cree language tānisi-kākī-itāhkamikahk piyak-ispathiw = [What happened in one week?] (Woodland Cree)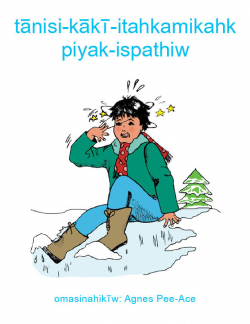 Subject
Woodland Cree dialect -- Readers
Description
9 pages : illustrations ; 28 cm.
Biblio Notes
Language Note:
Text in Woodland Cree (TH dialect).

Responsibility:
omasinahikīw [author], Agnes Pee Ace ; otāpasinahikīw [illustrator], Elaine Hay ; okwīskasinahikīw [editor], Leona Ahenakew ; onīhithowasinahikīw [translator], Edie Hyggen.

Note:
Originally published under the title: What happened in one week? (1992). Translated from the Ojibwe: Ānīn kā-išiwēpahk pēšiko-anamihē-kīšik (1994).