Alter-Natives to non-violence report : Aboriginal youth gangs exploration : a community development process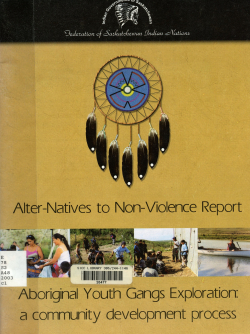 Subject
Gangs -- Saskatchewan
Abstract
"Provides a distinct First Nations response to labeling and identifying First Nations youth at risk in the context of "youth gangs", as described by the criminal justice system. The report identifies and examines underlying causes which place some youth at risk of becoming involved in criminal activities. Issues identified include youth disenfranchisement from families and society, youth living in poverty, multiple risk factors and problems related to stereotyping or labeling of youth by those responsible for the criminal justice system."--WorldCat.org.
Description
35 pages : illustrations.
Biblio Notes
Includes bibliographical references.