Lakota language Lakȟótiya wóglaka po! = Speak Lakota! : level 3 Lakota language textbook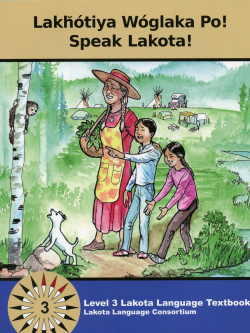 Subject
Lakota language -- Study and teaching,
Abstract
"Like all Speak Lakota series textbooks, the Level 3 is produced to the highest methodological and linguistic standards - allowing students to achieve the next great leap forward in language learning. Plus, the Level 3 has many important new features:

- Promotes conversational Lakota using proven communicative language techniques;
- 10 Units designed to teach language through familiar and fun contexts;
- Fully-integrated Audio CD and detailed Teacher's Guide (available separately);
- Over 500 new vocabulary items and supporting glossary;
- Wide variety of fun activities and exercises including 4 pages of stickers!"--Back cover.