Lakota language Lakȟótiya wóglaka po! = Speak Lakota! : level 4 Lakota language textbook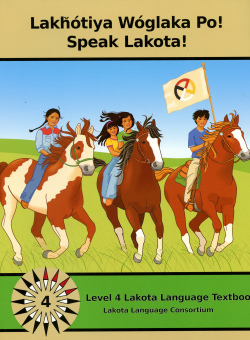 Subject
Lakota language -- Study and teaching
Abstract
"The Level 4 Textbook will take you to many new places and help you reach your Lakota language goals!

- 10 colorful, well-designed Units - a full year of instruction.
- Updated layout and artwork - even more engaging.
- Many new activities based on traditional cultural themes.
- Promotes conversational Lakota using Communicative Language techniques.
- Sequenced with Levels 1-3 vocabulary, lessons, and characters.
- Prepares students for Level 5 and intermediate-level proficiency.
- Integrated listening exercises for use with L4 Audio CD (available separately).
- Many new stories, games, comic pages, and a 1,258 word Glossary.
- Great for adult self-study too!"--Back cover.