The prehistory of Lake Athabasca : an initial statement (Mercury series)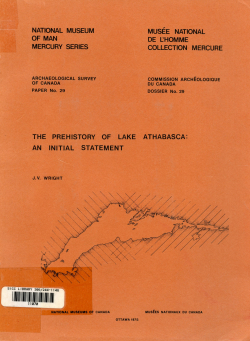 Subject
Indigenous peoples -- Lake Athabasca (Sask. and Alta.) -- Antiquities
Abstract
"The appearance in the Lake Athabasca region, at various times, of Plains, Arctic, and Boreal Forest cultures reflect the lake's proximity to these physiographic zones which contracted and expanded in response to climatic fluctuations. The prehistory of the western half of Lake Athabasca is significantly different from the equivalent prehistory of the eastern half of the lake, particularly along the north shore. For the late prehistory it is proposed that the eastern portion was occupied by Athabascan-speaking peoples who historically are the Chipewyan while the western portion of the lake was occupied by another group; possibly Athabascan-speaking Beavers."--page iv.
Description
iv, 189 pages : illustrations ; 26 cm.
Biblio Notes
Includes bibliographical references.